Halle Berry: Halle Berry Goes OLD School!!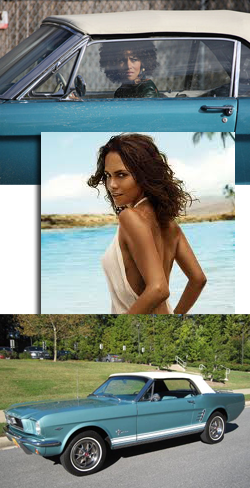 by Jerome Williams
A woman whose combination of talent, tenacity, and beauty made her one of Hollywood's elite actors, Halle Berry's success has come from years of hard work, while enduring her share of career pitfalls.
Berry's interest in show business resulted from her participation in a number of beauty pageants throughout her teens, including the 1986 Miss U.S.A. Pageant. A native of Cleveland, Ohio, Berry was born to an African-American father and Caucasian mother on August 14, 1966.
Berry's parents divorced when she was 4 years old and she was raised by her mother Judith, a psychiatric nurse. At 17, Halle appeared in the spotlight for the first time as the winner of the Miss Teen All-American Pageant,and subsequently became a model. Her first professional acting gig was on the TV series Living Dolls. Berry then appeared on Knots Landing before winning her first big-screen role in Spike Lee's Jungle Fever. It was on the set of that film she first earned her reputation for her full commitment to acting—reportedly refusing to bathe for weeks in preparation for her portrayal of a crack addict.
Following her film debut,Berry was cast opposite Eddie Murphy in Boomerang as the comedian's love interest. Holding her own against Murphy, the same year she did critically acclaimed work in the title role of the Alex Haley miniseries Queen, playing a young woman struggling against the
brutal conditions of slavery.

Kevin Durant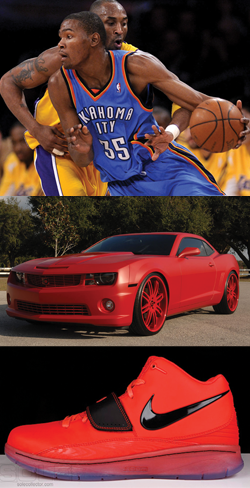 by Jerome Williams
Kevin Durant plays for the NBA's Oklahoma City Thunder. A 6'9" small forward/shooting guard who is also capable of playing power forward, Durant was 2007's National College Player of the Year and the 2006–2007 Big 12 Player of the Year.
After his freshman season at the University of Texas, Durant entered the NBA Draft, where he was selected second overall by the Seattle SuperSonics. Winning NBA Rookie of the Year Award after his debut season, in 2007, Durant signed an endorsement contract with Nike. In the 2009-10 season Durant led the NBA in scoring and became the youngest player ever to win the NBA scoring title. He would later be named to the 2010 All NBA First Team.

Durant's Matte Red 2011 Camaro? My GOODNESS! It's just too sexy for words. While matte paint doesn't go with everything, this one was customized with Celebrity Garage influences. With KD logos on the grill and wheel center caps, Durant brought the MVP out of this already stellar vehicle.
In fact, this project might well have been sneaker inspired.

Amber Rose: Flaunting Her Whip Game!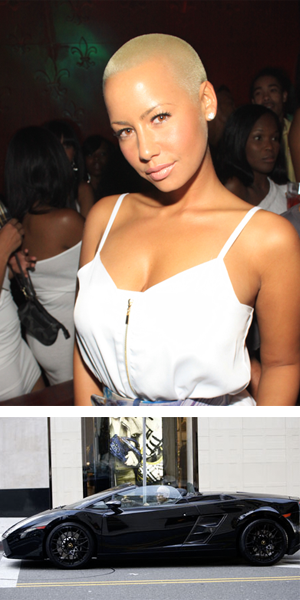 by Jerome Williams
Early in 2009, Rose posed for a Louis Vuitton print ad featuring Lamon Coleman's new line of sneakers. On July 11, 2009, it was announced Rose had signed with Ford Models.
In September 2009, Rose announced plans to launch her own line of eyewear. She walked the runway at New York Fashion Week for "Celestino", and was unveiled as the new face of "Boadicea the Victorious" perfume.
Rose has also made cameos in music videos such as Ludacris' "What Them Girls Like", Young Jeezy's "Vacation", Mary Mary's "God in Me", and Nicki Minaj's "Massive Attack". Most recently, in 2010, she appeared in Russell Simmons' reality show about his two assistants, Running Russell Simmons.
All this activity generated significant rewards, among them, a beautiful 2010 Lamborghini Gallardo, dressed in Brilliant Black over Nero Perseus (that's black on black y'all…). The interior features Alcantara inserts, Piano black wood trim, and a suede steering wheel.

We think this car matches Amber perfectly, though it does beg the question whether she or the Lambo has the most vivacious curves.

Labron "King" James: 2010 Camaro SS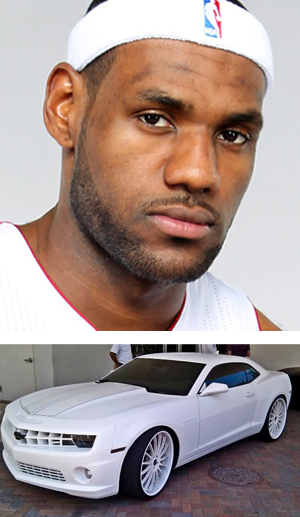 by Jerome Williams
Lebron James just picked up a new car to add to his fleet of cars in Miami. This time he picked up an all white 2010 Camaro SS. The car is completely white except for the gloss black emblem, the tinted windows, and a thin black pinstripe racing stripes.
I like the idea of going all white on a Camaro, I have never seen it done before. The all white multi spoke wheels also look good on this car. I love the staggered lips on the wheels. The only thing I would have changed would be to add either a flat back or solid color in the racing stripe outlines. I think it would give this smooth ride an even bigger bark!!!
All in all, the "King" definitely has good taste in his cars and this is no exception.

2010 Celebrity Garages
CLICK HERE to see WHO last year's celebrity garage included