Cain Velasquez: UFC Heavyweight Champion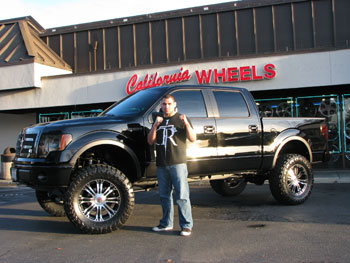 by Jerome Williams
Cain Velasquez just destroyed Brock Lesnar last month to take the UFC heavyweight championship. Here he is standing in front of his black 2009 Ford F-150, customized by California Wheels in San Jose, Calif.
The truck is equipped with 20-inch RBP 94R wheels; a custom RBP grille, RBP side steps, and a custom exhaust system w/ RBP exhaust tips. It has a six-inch suspension lift, custom intake and engine tuning. To complete the look, California Wheels added smoked taillights and headlights, then blacked out the emblems, and tinted the windows.
A bad to the bone truck for the bad to the bone, UFC champ—the ride suits Velasquez perfectly.
Fergie's Hummer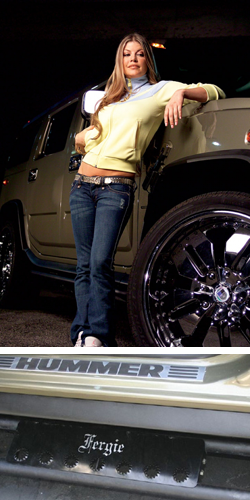 by Jerome Williams
Check out Fergie leaning on her Hummer H2. Posed on chrome and black Asanti 24's with a set of Pirellis. AS2 has no complaints on her choice of wheels—they are looking good.
Nicely integrated, the monogrammed drop-down steps are definitely a necessity for the diminutive pop star to use to climb into her big Hummer.
And while we applaud those touches, Hummers have had their play.
We ain't mad at you though Fergie. But we do have to ask; what's next?
Danica Patrick: Fierce & Focused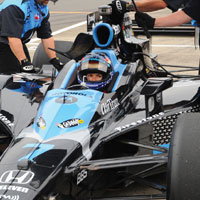 by Jerome Williams
Danica Patrick, at age 28, might never live up to all the pressure piled on top of her. However, fierce, focused, Patrick's not about to let anyone, including any group of men, block her path to success.
While Patrick is not the first woman to strap herself into an open-wheel racing car in this male-saturated sport, she is the first woman to win. We think it's safe to say she'll wind up holding the checkered flag more than a few more times in her racing career.
Boyd Coddington: Ghetto Princess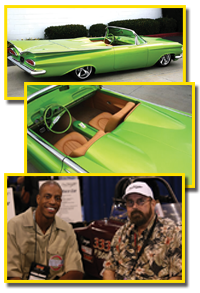 Courtesy of BoydCoddington.com
Fords may have always been the kings on the hot rod circuit, but for customizers, Chevrolet has had the title since the postwar days. In the Southern California Chicano culture in particular, Impalas remain the canvas of choice for cool paint jobs, radical lowering and cruising "low and slow." The Coddington take on this is true to the spirit of classic lowriders, yet pays rapt attention to modern performance, handling and detailing.
Retaining the stock bumpers, grille, quad headlights and "eyebrows" over the lights, the Princess is immediately recognizable as a '59 Chevy coming at you. Those wild, but stock, rear fins and long taillights were wisely retained. The all-over smoothing and flawless paint and bodywork with a piercing green Candy paint job would have been enough to satisfy the dreams of many the lowrider afficianado, but check the side view of the Ghetto Princess. She was not a convertible when Coddington found her.
The job of de-roofing a car involves reinforcing the chassis and making new trim for the tops of the doors. More than just the lack of a top, the addition of that beautiful, hand-formed aluminum tonneau cover with the flared headrests, ala the '62 Thunderbird Sports Roadster, is a stroke of customizing genius. A stroke that immediately radicalizes the overall impression of the car, the original concept drawing of which was by Eric Brockmeyer.
Riding low on Boyd's "Junkyard Dog"
wheels (their name for them, not ours—though JYD is honored. - Ed. ), you can't see the awesome chassis work and Morrison IFS with Wilwood disc brakes unless the hood is opened, in which case you're in for a shock. Most customs have relatively mild engines for reliable cruising, but mild is not in the Coddington dictionary. Under that hood lives a fully-dressed, 496-cubic-inch big-block, built by M&R Engines, with aluminum Edelbrock heads and a dual-quad intake topped with two huge billet throttle bodies to complete a serious EFI setup. It may be titled "Ghetto Princess" but with some 700 hp and 610 ft-lbs of torque on tap, performance is more on a gladiator scale.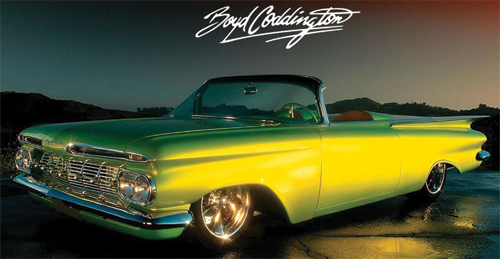 Pam Anderson's Jaguar XK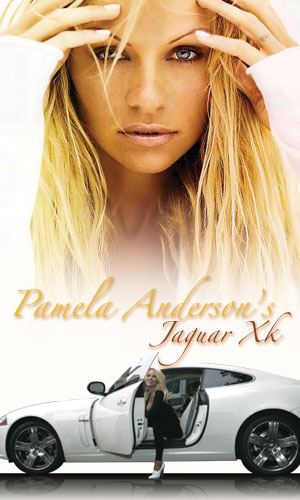 by Jerome Williams
Pamela Anderson is a Canadian-American actress, model, producer, author, activist, and former showgirl. Best known for her role on Baywatch, Anderson has also graced the television series' Home Improvement, and V.I.P.
Chosen as Playboy magazine's Playmate of the Month in February 1990, here's Anderson getting into her white Jaguar XK. Sitting on 20 inch chrome wheels, her car looks pretty good, but in our opinion this kitty could use a sexier set of shoes.
The AS2 suggestion to the bounteous Ms. Anderson would be to add a white/chrome combination to bring the Jaguar the red carpet eye catcher look this Hollywood Diva deserves.
Francisco Cordero's Rolls Royce Ghost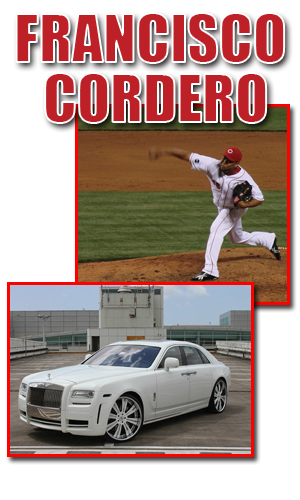 Francisco Cordero, the "lights out" closer for the Cincinnati Reds, became a three time All-Star in 2010. With 39 saves, Cordero is ranked second in the National League—only to SD's Heath Bell, 42—having led his team for the second straight season.
Cordero's white Rolls Royce Ghost sits on a set of 24″ Vellano wheels. The Vellanos, white with chrome lines on the face and a chrome lip compliment the car nicely.
Rocking the first Mansory body kit for the Ghost in the United States, MCA Customs in Miami did all the customization. Mansory builds the best body kits in the world, hands down. Take it from AS2, you'll never go wrong with a Mansory.
Still though, Cordero's RR isn't quite perfect (and no, we ain't hatin' y'all). Rolls' signature brushed aluminum hood paired with those sweet Vellano rims would have earned his Ghost a perfect score.
Ferrari 430: Lebron James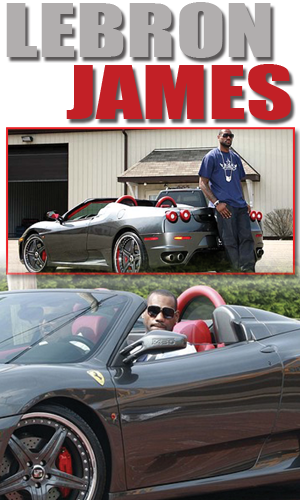 Lebron James heads to Miami Heat after his huge public announcement on ESPN. The country had long awaited a decision as to whether he was going to stay in Cleveland or move to New York, Chicago, Miami, or LA. All-Stars Dwayne Wade & Chris Bosh were able to lure the "king" to South Beach with the hope of forming a championship team. All kidding aside, if we look at Lebron's whip game, his garage kept cars will enjoy the sun a whole lot better than the snow.

His Ferrari 430 will be right at home cruising down South Beach's Washington Avenue.

The Ferrari's paint is gun metal grey with red accents throughout. Lexani LSS-5 wheels have the classic stagger fitment 19" in the front 20" rears. The best part about this fine automobile is under the engine cover where its monster V8 blasts over 343lbs. of torque and 490 bhp.

Smart Car: Jennifer Love Hewitt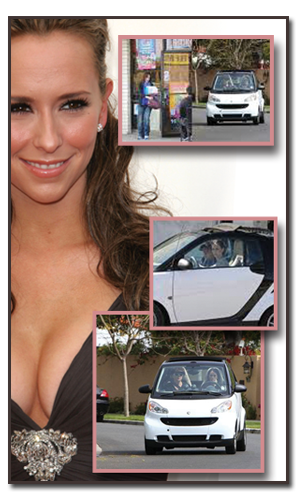 By Stan Mitchell
Jennifer Love Hewitt is an actress, television director, voice-over artist, singer-songwriter, author, and film and television producer. Affectionately known as "Love" by family and friends, she began her acting career as a child by appearing in television commercials and the Disney Channel series Kids Incorporated.
She rose to fame in teenage popular culture in her roles in the Fox series Party of Five, as "Sarah Reeves", and films I Know What You Did Last Summer and its sequel, as "Julie James". Jennifer is known for making smart decisions with her career and here we see that she's made a really, really smart decision to drive a smart car. Thumbs up "Love"!

Nissan GT-R: Andrew Bynum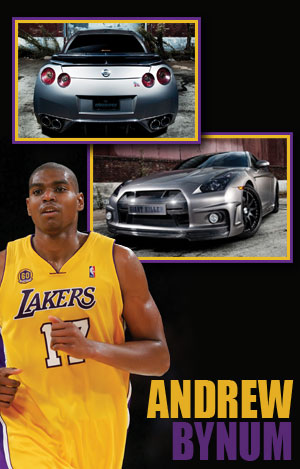 Andrew Bynum is a two-time NBA World Champion with the Los Angeles Lakers.

Bynum is also a true car fanatic who customizes all of his cars at Platinum Motorsport in Los Angeles.
So you know his super-fast Nissan GT-R absolutely had to be featured in Automotive Street Style. Posed on a set of 22 inch matte-black Agetros wheels––which compliment the car perfectly by the way––Bynum also specified an eye-arresting body kit with laced with carbon fiber trim.
Having played against Andrew back in the day, I understand why the GT-R's front license plate reads "Giant Killer". In this month's Celebrity Garage, Bynum's GT-R takes four out of five stars.

Bentley Continnental GT: Allen Iverson


Allen Iverson is working on a comeback. Gary Moore, Iverson's personal manager, said that Iverson is planning a return to the NBA next season. Iverson previously returned to the Philadelphia 76ers in December and took a leave of absence in March because of family issues. "Allen is working out and he's getting himself prepared to make his return," Moore said. "He absolutely will try and play next year."

Iverson's December signing with his old club seemed to be just a move to get some people in the stands, now we hope he can end his career on a positive note. Iverson was an All Star on the court and with that type of persona, his whip game has to carry similar bells and whistles. He is seen at left leaning on his white Bentley Continental Gt with 22" chrome wheels. AI kept it simple with this car with justall chrome wheels , Strut grille and tinted windows. Seems to be about a 4" lip in the rear. Nothing spectacular but it looks good. He gets a Celebrity Garage 2.5 out of 5 star rating....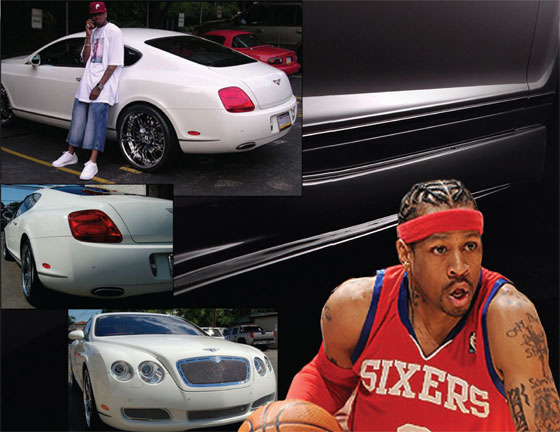 June Edition: Paris Hilton's MeLaren SLR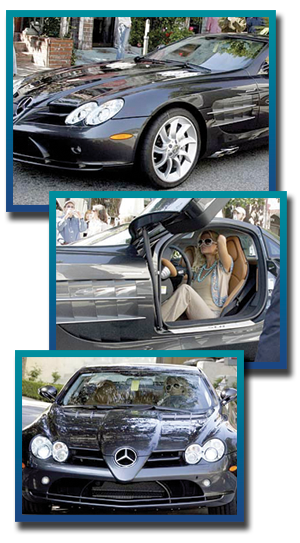 For this post, we are bringing out the popular celebrity who has rocked the Internet searches for years now. Her name has been synonymous with fame and fortune along with a few parties, music album and hit TV show. She could not miss this opportunity to be included in Automotive Street Style magazine.
The toughest question has to be, if you were an heir to an estimated 560M worth of wealth, what would you do to even spend enough in your lifetime? Well, Paris Hilton sure knows how to spend half a million dollars in style. Shes got a Mercedes-Benz McLaren SLR, which customizers such as ourselves would love to get our hands on. She also coined the phrase, "That's Hot", and with wheels like these, she continues to strengthen
her brand.

May 2010: Ryan Sheckler's 2003 Range Rover HSE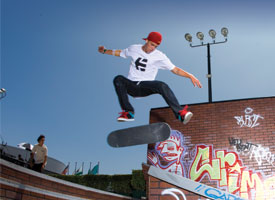 Witness professional skateboarder Ryan Sheckler deftly defying gravity — and serious injury — rocketing around the grounds of his parents' otherwise normal suburban Southern California home and it would be easy to stereotype him as a highflying young daredevil.
How many teenagers have a full-on skateboard park in their backyard or their very own tricked-out Range Rover HSE sport utility vehicle? None as far as Celebrity Garage is concerned. But it only takes a few minutes conversation to discover that Sheckler lives his life with both feet firmly planted — figuratively speaking, of course — on the ground.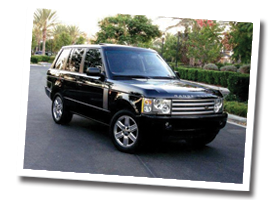 "I feel like my parents have taught me to be properly grounded," says the curlyheaded kid who spends most of his time with his family and neighborhood friends doing "normal teenage stuff.
Sheckler also credits his father for getting him hooked on performance vehicles.
"My dad's always been into cars. He's always had fast BMWs, but when I was 10 or 11, he was into bigger trucks . . . so now I'm fortunate to have the Range Rover and my new toy, the 2007 Dodge Ram 2500 6.7-liter diesel truck."
The black Range Rover is a 2003 model that Ryan bought from his uncle. He has owned it about 18 months, about as long as he has had his license.
MALCOLM M. GUNN, WHEELBASE COMMUNICATIONS

April 2010: Kim Kardashian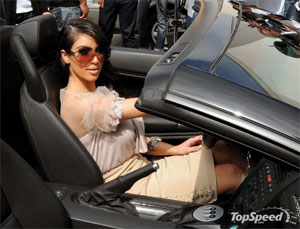 So Kim Kardashian really is a car girl — that's not just an act.
Only a true car chick would intentionally increase the value of an expensive luxury vehicle like a Bentley by putting a kit around it and fitting it with aftermarket rims and tires. The average price of a Bentley is around $200,000. Kim's Bentley is probably worth $20k more now.
Kim and Reggie are becoming one of Hollywood's classiest couples. She's a party diva building a brand around herself and he's now won a Super Bowl championship ring!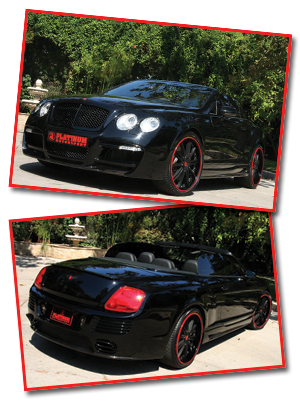 Kim Kardashian had a little run-in with a motorcycle back in March that put her brand new Bentley into the body shop for some serious repair. Well, like they predicted, Platinum Motorsport hooked it up and the style is fresher than her White and Pink Range Rover that they also hooked up!

Jay Leno's Garage: March 2010 Edition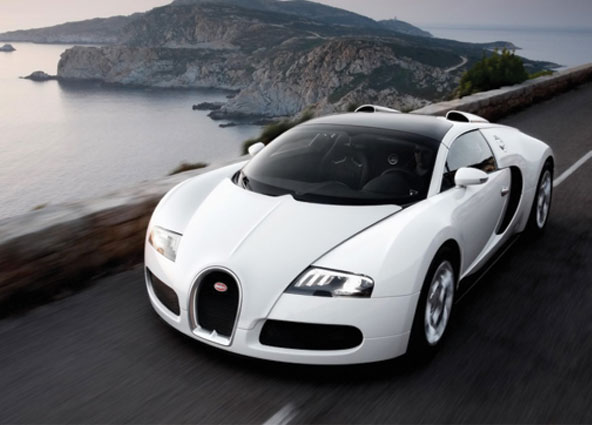 Somewhere in Southern California – a world of movies, magic, and make believe – is Jay Leno's Big Dog Garage, a place not without its fair share of magic itself. Spread across two low-slung buildings cooked by the sun, is one of the world's great car collections and one of the world's best-equipped garages custom-built from the ground up to keep everything running in tip-top shape. The garage itself is about 17,000 square feet, sizeable, to say the least, for a private garage, which is enough space to work on about a dozen cars at any one given time. About a quarter of that space is taken up by the machine shop, which includes a massive amount of equipment.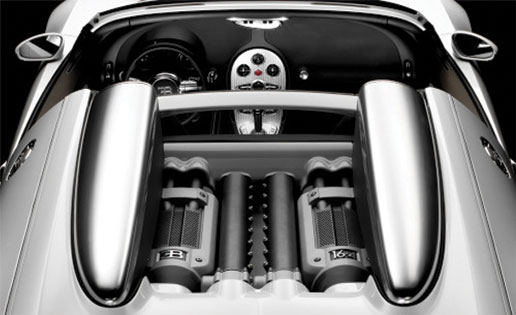 Since you can't exactly go down to the local auto shop for parts from pre-teen cars, the garage is geared up to fabricate parts and do just about all required work in house: a CNC Mill, a water jet cutter, sheet metal equipment, a lathe, a regular mill, and welding equipment from Tig and Mig to name some shop highlights.
The garage is also home to a gourmet kitchen where Jay shows off his culinary skills for his staff and other visitors. Besides being an avid car collector and mechanic, Jay also likes to cook and can often be found preparing food, especially when on hiatus from The Tonight Show.

Shaquille O'Neal: NBA All-Star's "King of Cars"
February 2010 Edition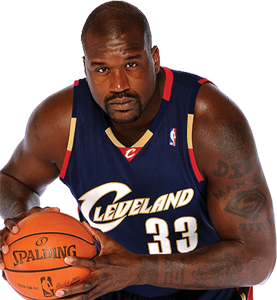 A 16-time NBA All Star, with career averages of 25.2 points per game, 11.5 rebounds and 2.5 blocks, Shaquille O'Neal one of the most dominant players in the history of the NBA. Standing at 7 ft 1 in and weighing 325 pounds , Shaq is one of the largest players to ever play in the NBA. Throughout his 17-year career, O'Neal has used his size and strength to overpower opponents for points and rebounds.
Rapper, actor, reserve police officer, U.S. Deputy Marshall and "BIG TIME" car enthusiast! That same power, passion and enthusiasm that Shaq has used to dominate the paint for more than 17 years has inspired him to create some of the HOTTEST whips on the streets! Weather he's showing off his Custom Cadillac Escalade on MTV Cribs, or showing up to the game in his gigantic Ford F-650 XUV, Shaq always makes a statement with his custom rides.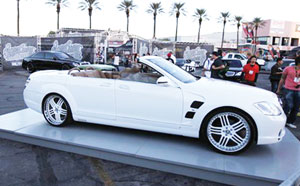 The Mercedes Benz S550 is one of the hottest sport sedans on the planet. Sporting a flawless interior and over 600 HP under the hood, the S550 is an automobile made for the red carpet. Unfortunately, Mercedes Benz has never built a four door convertible. But when it comes to Shaquille O'Neal, and cars, nothing is impossible.
"Sunshine and palm trees are my favorite backdrop, so creatively, I had to go to the lab and doctor on this Benz with my Super Man trademarks; convertible top, suicide doors, and of course, the Superman interior".
Here's one for the JYD
Dog Pound, a Superbenz from Superman!

Nelly Sitting on DUBS
Detroit Auto Show: Nelly's Custom Ford Mustang
February 2010 Edition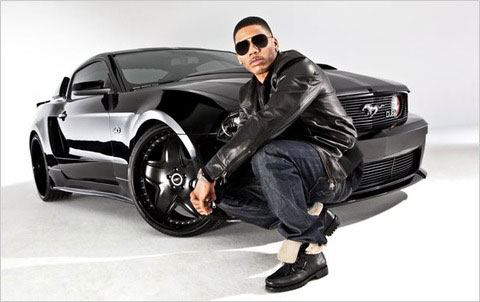 Lawyers for the rapper Nelly will be busy defending speeding tickets if his predictions come true.
Nelly and Jim Farley, vice president of marketing for Ford, showed off Nelly's custom Mustang GT, which will appear on the cover of his coming album at the 2010 North American International Auto Show.
"I already called my lawyers to get them on deck for more tickets," Nelly said to the crowd at the Ford stand, around a new Mustang GT 5-liter. The St. Louis native is a car collector, with an impressive collection of luxury cars. He said he has been waiting for Ford to reproduce the iconic 5.0 engine. When he met with Mr. Farley last year in a visit to the Ford design center, Nelly gave him his feedback.
"It's great when you are throwing ideas and the big shots listen," Nelly said with a charming grin. "The 5.0 is the epitome of the muscle car as it should be."
The custom car was produced by DUB magazine and flaunts suede and leather and two 12-inch subwoofers. Ford is the title sponsor of the DUB Show Tour held during the Charity Preview in the Cobo Center.
"The Mustang hasn't been promoted in the African-American and Latino cultures and yet it still needs to stay true to its performance heritage, so we gave it that street styling," said Myles Kovacs, president and co-founder of DUB magazine.

By Tamara Warren