Cool Whips for a New Generation


by Stan Mitchell
A new generation of car owners will hit the roads between 2011 and 2020, seeking their first set of wheels. In all likelihood, the highly educated, mobile, and tech-savvy age group that falls within the demographic known as Generation Y will want cars that are like them: urban, flexible, collaborative, environmentally sensitive, and unconventional.
Whether updating their Facebook pages or just texting and tweeting their location, Gen Y expects communication and connection to be as much as part of the driving experience as Bluetooth syncing a cell phone, or downloading a song from iTunes.
Herewith; Automotive Street Style's Top Five Gen Y "cool whips".
2012 HONDA CIVIC
The all-new 2012 Honda Civic has an attractive shape and excellent proportions to enhance both interior space and exterior style.
2012 FORD FOCUS ELECTRIC
Ford's first all-electric model, the power cord equipped 2012 Ford Focus Electric simultaneously conveys fun and environmental responsibility.
2011 HYUNDAI VELOSTER
A new, sporty five-passenger coupe wrapped in an attractive hatchback design with a small rear-seat access door on the passenger side.
2012 CHEVROLET SONIC
Chevy's best entry in the sub-compact category. The Sonic has an available turbocharged engine and high-tech features like Bluetooth phone pairing and remote start.
2012 TOYOTA PRIUS C
Still considered a concept car, Toyota's Prius C promises to be the most fuel-efficient hybrid (that doesn't need a plug) and will be the most "value-oriented hybrid" in the United States.

CES Show 2011


SMWW Graduate Working in Basketball-Featured on 590 The Fan
The 2011 Consumer Electronics Show will be remembered as the year mobile took over. No one was talking about who had the biggest HDTV, it was all about tablets that could do no wrong and super-phones so powerful they can double as laptops. To make this possible, AMD and Intel's new platforms combine the CPU and graphics card on a single chip.

Our Ten Best of CES Award Winners represent the most innovative products among dozens we saw at the show, from dual-core handsets and 3D camcorders, to Android for your car.
#1: RIM's Seven-Inch
BlackBerry PlayBook
This tablet is one of the most anticipated devices of 2011, having won the JYD vote before anyone even had a chance to play with one. Today, RIM announced the Wi-Fi only version of the slate will start selling this spring at an undisclosed price RIM says will be "competitive" with other devices. No word yet on which retailers or carriers will sell the Wi-Fi only PlayBook.
What is clear though is the company has really focused on multi-tasking. Unlike Android, the BlackBerry Tablet OS has task-closing built in.
#2 Sony HDR-TD10
Two lenses and two sensors make Sony HDR-TD10 the first 3D camera capable of double full HD video. Whether you're capturing footage in 3D or 2D, this shooter (available in April for $1,500) is the Swiss army knife of video cams. You can watch your recordings in 3D on the glasses-free 3.5-inch LCD display. And when you're ready to watch your creation on the big screen, files created by the camcorder will play in 3D
on your Playstation 3 or 3D-capable TV. If 3D video is
truly the way of the future, this is the camcorder you'll want to have by your side.
#3 Splashtop Remote for Android
No more copying your favorite music and movies onto the SD card of your Android 2.2 device. With the Splashtop Remote app, users gain full access to their home-bound PCs. That means pictures, video, documents, games, and any other file or program on your main PC is up for grabs, no matter where you are. Splashtop's remote connection is so strong, you'll feel like your treasured media files are right in front of you. And that's the point.
#4 Alienware M17x
How do you improve upon one of the word's fastest notebooks? If you're Dell, you update your popular Alienware M17x gaming rig with the latest Sandy Bridge CPUs and Nvidia GTX 460 graphics. Then, you do something really radical: enable wireless streaming of games from the notebook to an HDTV--without lag.

SMWW Features Jerome Williams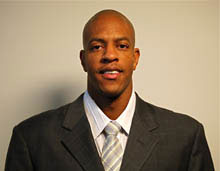 SMWW Graduate Working in Basketball-Featured on 590 The Fan
SMWW Basketball GM & Scouting Graduate, Jerome Williams, had plenty of basketball experience having played nearly 10 years in the NBA. Looking to continue his career, Williams invested in Basketball Scouting specific education hoping to eventually land a front office job. He is currently a community ambassador for the Toronto Raptors and working his way up in the organization. 
 
For more on Williams' story, listen to his interview on The Eric Smith Show-590 The Fan -Toronto. 

If you are interested in working in basketball, sign up for the Basketball GM & Scouting Course Today!

Happenings and News of 2010
CLICK HERE to see all the events and news from 2010 for Jerome Williams and Automotive Street Style Magazine!