SMWW Features Jerome Williams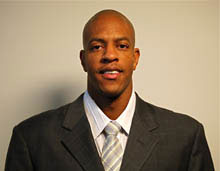 SMWW Graduate Working in Basketball-Featured on 590 The Fan
SMWW Basketball GM & Scouting Graduate, Jerome Williams, had plenty of basketball experience having played nearly 10 years in the NBA. Looking to continue his career, Williams invested in Basketball Scouting specific education hoping to eventually land a front office job. He is currently a community ambassador for the Toronto Raptors and working his way up in the organization. 
 
For more on Williams' story, listen to his interview on The Eric Smith Show-590 The Fan -Toronto. 

If you are interested in working in basketball, sign up for the Basketball GM & Scouting Course Today! 
SEMA Show 2010


Camaro, F-Series and Wrangler Win Awards
The inaugural SEMA Award was presented to Chevrolet Camaro for the Hottest Car, Ford F-Series for the Hottest Truck and Jeep Wrangler for the Hottest 4x4-SUV during the 2010 SEMA Show in Las Vegas.
The 2010 SEMA Show featured more than 1900 exhibiting companies. With more exhibitors showcasing their new products and styling trends on the Chevrolet Camaro, Ford F-Series and Jeep Wrangler, the SEMA Award winners are vehicles consumers can confidently turn to for unlimited possibilities in personalization.
SEMA Show exhibitors manufacture thousands of products that improve performance, safety and convenience, as well as enhance appearance and comfort. While products are available for every make and model vehicle, exhibitors are investing more into the Chevrolet Camaro, Ford F-Series, and Jeep Wrangler than any other vehicle. Consumers, therefore, can expect to find more options for accessorizing these vehicles.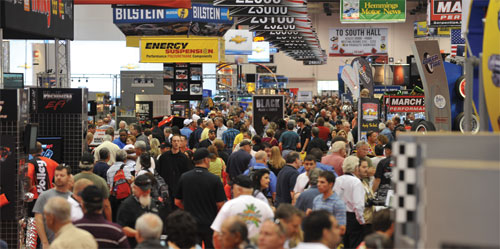 Goldstrom's Ninth Annual Car Show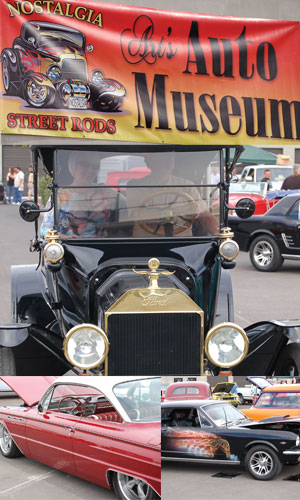 On Saturday, November 6, the Goldstrom family held their Ninth Annual Car Show to benefit the American Parkinson Disease Association of Southern Nevada. Another scorching hot event, Automotive Street Style was on hand to bring you the 411. Featuring hundreds of rare vintage hot rods on a gorgeous day, the cool sunshine made the colors even more vibrant. Free admission in this economy was another huge plus.
The JYD Special Edition Camaro made an appearance, along with world-renowned artist Kenny "Young Blood", who was signing autographs.
Art and Shirley Goldstrom along with their daughter Sheri, continue their decades-long documentation of eras in American history. They collect and organize artifacts of pop culture, restore classic automobiles, and honor the long tradition of the hot rod.
The breadth of their work and their collections were on display for all to enjoy. All proceeds from the event went to the American Parkinson's Disease Association of Southern Nevada.
This was truly a great event for a great cause.
2001 Nissan Versa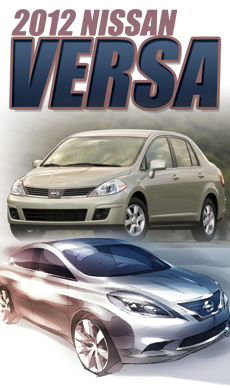 Written by Stan Mitchell
You may not have ever heard of Nissan Versa, or if you have, perhaps you've paid it NO attention. Well, tune in… The Nissan Versa is actually a very important car for Nissan Motor Corp., especially in Asia. The Versa is also making its mark on the US market. Nissan sold 7,021 Versas in September 2010 in the United States, an increase of 47 percent over the same period in 2009. Versa sales through the first nine months of the year are up 20 percent, to 76,736 units.
The Versa belongs to the economy class, it's affordable, quite nice and well-equipped. To no fault of its own, the Versa has always looked like a everyday, just like everybody else economy car! Well, my guess is that's about to change.
Recently, Nissan released this teaser rendering previewing the next generation of the Versa scheduled to go on sale in 2012, and rumors say it will reach the US market as well. The rendering shows a redesigned Versa with contour lines down the sides and a gracefully sloping roof line. This new Versa is quite a departure from the previous version (see inset). Some speculate the car shown is a coupe, however, upon close examination, there appears to be line to the center of the rear wheel well that resembles a rear door. Watch out Toyota Corolla, you may have competition!
Will Volt Be A Hit? Electric Cars Face A Bumpy Road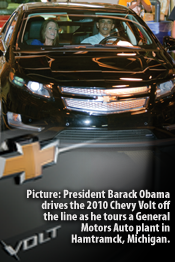 Written by Paul A. Eisenstein
The Chevrolet Volt has won a presidential endorsement and the support of leading environmental activists. Now it needs to garner consumers' embrace when it comes to market later this year.
General Motors' new extended-range Volt is just one of many advanced electric vehicles that will charge into showrooms over the next several years. Proponents believe the nascent switch to electric propulsion will be a critical step in reducing the nation's dependence on foreign oil and toward the goal of reducing global warming.
But skeptics question the viability of vehicles like Volt, citing their high cost and limited range as factors that could minimize demand, especially at a time when gasoline prices are relatively affordable.
Analyst Joe Phillippi of AutoTrends Consulting said he was surprised by GM's decision to price the Volt at $41,000, even higher than the $40,000 figure that had been floating among industry-watchers and at least 50 percent higher than a comparable well-equipped compact sedan using a conventional gasoline engine, like the new 2011 Chevrolet Cruze.
Other observers were less kind. Conservative talk show host Rush Limbaugh used the news to launch a tirade against GM, which he often refers to as "Government Motors," suggesting the Volt will be a major failure. Commentators in mainstream media outlets including the New York Times also questioned Volt's viability.

There's no question the price tag is high, especially when compared with the other major battery car launch scheduled for late this year. The Nissan Leaf will come in just under $33,000. Like Volt, it will also be eligible for a $7,500 federal tax credit, which will bring the Nissan offering down to around $25,000, while Volt will have a transaction price of around $33,000 after the credit.

Both makers expect to lease a significant number of their new battery cars, perhaps the majority of them. In that case, Nissan's advantage largely evaporates, since both models will carry a lease price of $350 a month. That is perhaps a level that green-minded motorists could accept, suggested Phillippi.
A Drive Through Detroit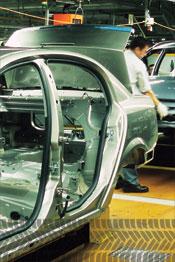 by: Yana Kunichoff, t r u t h o u t | Report
The first thing Mark asked me when I stepped out of the glaring Detroit summer sun and into his yellow cab was whether I was in Detroit for the US Social Forum. I was, I told him. How was I finding the city? he wondered. Fine, I said, though I hadn't really had much of a chance to explore the place that was being pegged as the symbol of American economic decline.

Mark, who asked that his last name not be used for personal privacy, laughed and offered me an exclusive tour of Detroit beyond the art nouveau sculptures and bright glass of the area surrounding the conference center. And with this came Mark's story - as a former auto worker, as a Detroit native and as a cab driver who has traversed the city's streets.

During the ride we chatted about the decline of the big three auto manufacturers that have left Detroit facing unemployment rates of 14.6 percent in May 2010 according to the Bureau of Labor Statistics and, at one point, leading the nation's foreclosure rates.

Mark said he estimates the actual unemployment rate, which does not count part-time workers looking for full-time jobs or frustrated job seekers who have abandoned their job search altogether, to be approaching 50 percent, particularly in the African-American community.

Many of those now unemployed, he noted, had not gotten college degrees because they thought there was the guarantee of a steady job with an auto company or one of the multiple parts contractors waiting for them. Mark, a skilled worker who had graduated with a BA in political science, has not found the job climate hospitable since he took early retirement two years ago.

Mark's hope is for green jobs to rejuvenate Detroit and cities like it around the country. He doesn't know when this could happen or if it is even realistic, but he also has no plans to move his five kids - two of whom are in college and three still finishing high school - out of the city in which he was born and raised.
Gasoline Alley Birthday Bash
On the Sunday of Memorial Day weekend 2010, the 11th Annual Gasoline Alley Birthday Bash moved from the Cannery Hotel & Casino to Eldorado Park in North Las Vegas, where hundreds of street rods, hot rods, customs, muscle cars, imports, low riders, and customs were placed "On The Grass". Throughout the day, participants and members of the general public were treated to a wide variety of activities and entertainment. This event was hosted in support of The Lili Claire Foundation Family Research Center in Las Vegas, Nevada

2nd Annual Finish Line Dinner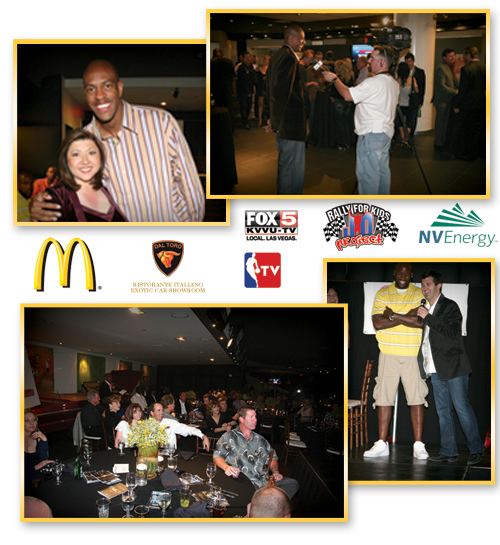 Rally Drivers, celebrities & JYD Project supporters were revved up and raring to go for the JYD Project's Second Annual Finish Line Dinner and Auction. This year's theme, "Fast & Furious" promised to be a lot of fun. The Palazzo Hotel played host for the celebrities, politicians, community leaders and supporters for an evening of fun and excitement. Fox 5's Olivia Boyle hosted the evening that started with a silent auction where guests were treated to cocktails sponsored by Johnny LOVE Vodka. Marc Savard, Planet Hollywood's comedian hypnotist, was on hand to entertain, as well as R&B vocalist Patrick Wilson. Attendees were also treated to a fashion show sponsored by Syrup Swimwear where models blazed the runway!!
JYD Project sponsors, Dal Toro's Italian Restaurant, Fox 5 and GM Chevrolet helped make this event a huge success. JYD Project president Jerome Williams and staff, were thrilled to have 20 drivers participate in this years Rally including seven local businesses for the corporate challenge. "It is always important to have community support whenever non-profits try to fundraise, having only been in the Las Vegas for three years, I'm even surprised at all the support that my charity has received from the community", Williams said.
The JYD Project supports After-School All-Stars, Boy Scouts of Nevada, The Shade Tree, and The Boys & Girls Clubs of Southern Nevada. The donations from the event will help benefit the JYD project as it prepares for another year of community service with health & fitness camps for kids, neighborhood clean ups and educational/leadership work shops to encourage youth to excel in all that they do. For more information about how you can support the JYD Project please visit www.jydproject.com, All donations can be made online or mailed to 2831 St. Rose Pkwy, Suite 203 Henderson, NV. 89052


The NBA Breakdown: Interview with Jerome "JYD" Williams
2/28/2010 9:00 PM - 45 min
The NBA Breakdown catches up with Jerome "JYD" Williams to get up to speed on what he's up to. We also take a trip with him down memory lane to his Georgetown days and lets us know what it was like playing north of the border. The NBA Breakdown - For hoops talk, the way it should be!

Click here to hear the entire interview.