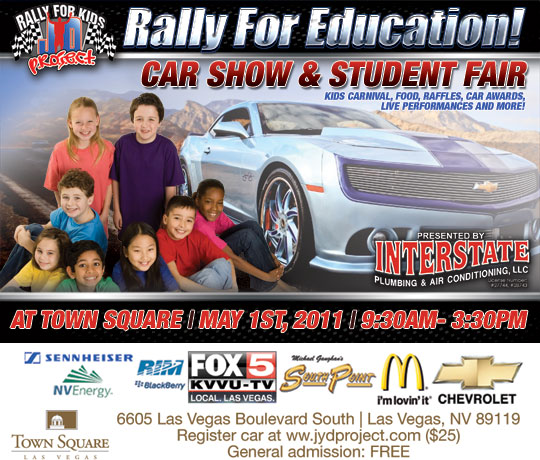 I'm excited to share this charity edition of Automotive Street Style with you. In this edition you will be informed of the role that you can play in assisting a student along the road to the workplace.

As an auto enthusiast, I love the way car owners customize, wax and show off their unique rides. But, I am troubled by the lack of TLC that our kids receive in polishing up and presenting their skills to a rapidly shrinking workplace.

So this upcoming school year, I have assembled an awesome pit crew to inspire 50,000 students to gather up the tools needed to navigate the highways and back roads of life.

The Project 50/50 is my personal goal to do something more than just sit back waiting for Superman to save us.

CLICK HERE to view full Rally/Charity Edition 2011 of Automotive Street Style Magazine!
Cheers
Jerome Williams
RALLY EVENTS: April 26 - May 1st, 2011
Team JYD vs. Clark County Cops
Tuesday, April 26th | 6pm - 8pm
Henderson International School 1165 Sandy Ridge ave. Henderson, NV
JYD and his NBA friends will take on Nevada's Finest in a Basketball game to benefit injured officer's fund & the JYD Project. Cost: $10-Adults $5- Kids

Project Pizza
Wednesday, April 27th | 11am- 9pm
California Pizza Kitchen at Town Square will donate 20% of proceeds from every JYD Project flyer that is brought to dine or carry-out.
To Print Flyer: CLICK HERE

Rally Awards Banquet
Thursday, April 28th | 6:30pm - 8:30pm | Location: Pete's Piano Bar
The JYD Project will present 4 local charities with their
"Driving Change Award".
For Tickets Call 702-589-4658

Rally "Red Carpet" Movie Night
Friday, April 29th | 7:30pm - 9:30pm | Town Square Lawn
The JYD Project will host a community Press Rally and Movie
"Waiting on Superman" on the Town Square Lawn.
Cost: Free

Rally Down The Strip
Saturday, April 30th | 10:00am - 12:30pm | Starts at Blue Martini
Attention All Educators! Jerome Williams and his Pit Crew will drive down the strip with 2 school buses, educational supporters and Car Show participants.
Cost: $5

Rally Cocktail Party
Saturday, April 30th6:30pm - 8:30pm | Blue Martini
The Rally Cocktail party allows drivers and sponsors to mix and mingle as the Blue Martini introduces the "Rally-tini" to benefit the JYD Project.
Cost: By Invitation Only

JYD "College and Cars' Car Show
Sunday, May 1st | 9:30am - 3:30pm | Front parking lot of Town Square at
Las Vegas blvd. & Sunset
This unique car show will serve a dual purpose, to promote education and showcase Vegas' finest cars. Car Registration: $25; register at www.jydproject.com General Admission: Free

Cannon Ball Rally
Sunday, May 1st | 11:30am - 1:30pm | Car Show - Pit Row
The Rally teams will set out on an auto-scavenger hunt in search of the "key to success". Only one key will unlock the 2011 JYD Rally Cup.
Cost: Sponsorship Fee -$1,000
CLICK HERE to See the Rally Magazine Special Charity Edition!