Vehicle Review: 2011 Mercedes-Benz CL550 4MATIC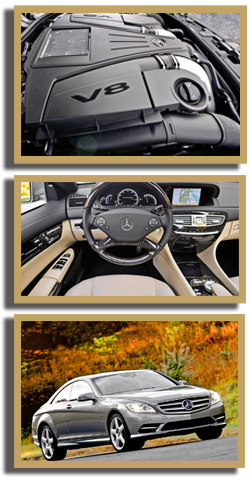 by: Lyndon Conrad Bell
The State of the Art Just Got Better
N icely updated for the 2011 model year, Mercedes-Benz has addressed the primary quibble we had with the CL-Class, while introducing other improvements to make the car an irresistible package. The new sculpted hood and redesigned grille add sleekness to the car where it was bulbous before. The design is now completely cohesive and has at last achieved its full potential. Thanks to these adjustments, the 2011 Mercedes-Benz CL-Class has become one of the most beautiful new cars on the road today. Its gracefully flowing lines and powerful stance emit an aura of class, exclusivity and capability.
Its all-new twin-turbocharged 4.7-liter V8 produces an impressive 429 horsepower. But that's nothing compared to its torque output of 516 ft-lbs at 1800 rpm! Remember, it's torque that gets you moving and the CL550 4Matic

is good for a zero to 60 of 4.8 seconds. A seven-speed automatic transmission with a manual shift mode via steering wheel paddles conducts power to all four wheels.
As good as all of that is, it's only a portion of the car's charms. Those fortunate enough to travel in a CL550 will be treated to an experience almost beyond description. Rather than merely sit in this car, one luxuriates.
The seats are nearly infinitely adjustable in every direction imaginable. They're heated and cooled and massage and even automatically adjust their side bolsters to hold you in place when the car goes around a turn.
The seat literally hugs you.
Every comfort, convenience and safety feature currently available is included in the car. Night vision with pedestrian detection, blind spot detection, voice activation for audio, navigation and communications, an automatic opening and closing trunk, self-closing doors, the list goes on and on and on. In addition to all its other attributes, the Mercedes-Benz CL550 is, quite simply put, the state of the art luxury coupe.
And it goes over the road the same way. Prodigious at elevated highway speeds, while around town, the Benz flows graciously with minimal effort on the part of the driver. On winding back roads, switch the transmission and the suspension to sport mode, pilot the Benz smoothly, and you'll find yourself tearing through curves at speeds that will leave you absolutely slack jawed.
The Mercedes-Benz CL550 4Matic has the grace and craftsmanship of the finest mega-dollar rides, the electronic accoutrements of a technogeek's wet dream, the speed and power of the most highly capable sports cars, and legs long enough to see you through a five hundred mile Interstate drive, capable of going five hundred more. And here's the truly amazing part—there are three, even more powerful engines available for this magnificent automobile.