Vehicle Review: 2011 Dodge Charger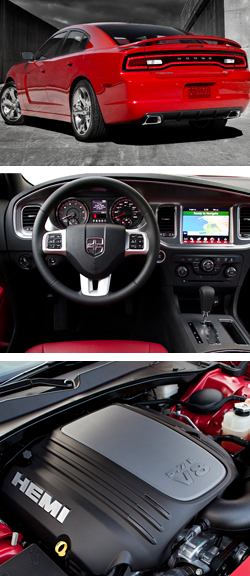 by: Lyndon Conrad Bell
The Family Man's Sports Sedan
The question that led to the development of the outgoing Dodge Charger model went something like this; "OK, so we've got this great platform we've inherited from Mercedes that's doing well as the Chrysler 300. We're thinking it'd be good for Dodge to have a large car too. What can you come up with?"
Problem was, the people working on the car only knew they were working on a large sedan for Dodge. They didn't know it was going to be called a Charger. That decision came after the car was done and the resulting car looked nothing like a Charger at all.
This time though, they knew they were doing a Charger—and it shows!
The new design bristles with heritage cues from the iconic Chargers produced between 1968 and 1970, both outside and inside the car. Yet, the 2011 Charger also projects a fresh, contemporary appearance. The new Charger's interior is also miles ahead of the one it replaces. Still businesslike in every respect, the extreme austerity of the previous edition has been unapologetically left behind.
Two engines are available at launch, a 292-horsepower 3.6-liter Pentastar V6, and the 370-horsepower 5.7-liter HEMI V8. Both engines are smooth, tractable, and provide more than adequate power. We drove the V6 up the Pacific Coast Highway from San Francisco and found it to be well mated to its six-speed automatic transmission, though manual shifts could respond with a bit more alacrity. We sampled the V8 as well and found everything we liked about it before to still be true. Its mellow burble, exceptional thrust and abundant torque all combine to fulfill the promise of the Charger's new exterior styling. In other words, the 5.7-liter Charger is fast. With the 5.7, Dodge claims a six second 60.
And it handles too. We kept pushing the Dodge deeper and deeper into curves in an effort to get it unsettled. Eventually, of course we did, but only when we got into a corner way too deep—with way late braking. The Charger then succumbed to a mild plow, but nothing we couldn't immediately correct. Chassis folks—job well done. The Charger feels like a car half its size, displaying the agility and adhesion we've come to expect from the finest sports sedans.
Dodge reps proudly proclaim the 2011 Charger is a car an enthusiast can be proud of, that does family duty too. We've heard this before; sometimes it works—sometimes it doesn't. In this case, it does. And, after experiencing the new 392 engine Dodge has dropped into the Challenger for its SRT8 applications, we're waiting with baited breath for a chance to dance with a Charger 392. (Ya gotta know it's coming…)
2011 Dodge Charger pricing starts at $25,995 (including destination).